Is there a way to heal or reverse a bulging disc in the lower back – naturally?
Can a bulging disc heal – without professional treatment or surgery?
The answer is YES (for some people).
There are several effective ways to promote disc bulge healing – that work FAST.
You'll find them here – right now.
Did you know that anyone could have low back bulging discs without feeling any pain?
That's right, low back bulging disc symptoms are usually unfelt.
If you suffer from extreme lower back pain and you have self-diagnosed yourself with a bulging disc, then  I have some news for you:
You have a herniated/ruptured/slipped disc. Not a bulging disc.
But who cares about the right term now?
Bulging, herniated, compressed, slipped, ruptured, protruding discs – even doctors get confused with these – can all be effectively treated at home – naturally.
According to Dr. Walter Salubro, the potential for a disc bulge to completely resolve or return to normal is uncertain and varies from case to case.
Your goal in your bulging disc treatment should be to decrease pain, inflammation, and referral pain, stabilize the spine, and improve function, mobility, and strength.
Once you optimize this – you can find yourself symptom-free and back to your normal life.
The best treatment for a lumbar bulging disc is to help your body heal it on its own.
What Is a Lumbar Bulging or Herniated Disc?
Discs are like miniature jelly doughnuts, exactly the right size to fit between your vertebrae. They're made out of an outer layer of tough cartilage surrounding softer cartilage in the center.
A bulging disk looks like a hamburger that's too big for the bun. The disc extends outside its normal place and the bulge typically affects a large portion of the disc.
Bulging is considered part of the normal aging process of the disk.
A herniated disk, on the other hand, happens when a crack in the tough outer layer of cartilage allows some of the softer inner cartilage to "escape" out of the disk.
Herniated disks are also called ruptured disks or slipped disks, and cause much more pain than compressed discs.
How to Heal a Bulging Disc Naturally
I don't want to get into the many, many reasons why long-term OTC and prescription drugs can be dangerous to your health.
One of the things your body needs to heal a bulging disc is to increase the space between the vertebrae, which can encourage the bulged nucleus to return to its proper place. This also helps to rehydrate the disc, which promotes the natural healing of the area.
This "space increase" will also relieve your lower back pain. The pain is caused by this pressure on the nerves causing low back inflammation.
If you relieve the pressure, the pain is relieved. As simple as that.
This process is called spinal decompression (or back traction).
It relieves the pain and allows your body to heal naturally – and faster.
No medication, no surgery. And you can do spinal decompression at home – by yourself, whenever you need it.
Here's how to heal a bulging disc naturally:
1. Decompress Your Spine

A study published in the Scandinavian Journal of Rehab Medicine looked at different body positions and how they impacted the pressure within the 3rd lumbar disc.
The researcher, Dr. Nachemson found:
When you are sitting, you experience 50% more pressure on your back then when you are standing in good posture.

Even when you lie down, you still have 25% of your standing body pressure on your spine as a result of the muscles and ligaments supporting your back.
Nachemson also found that spine decompression at an angle where 60% of your body weight is stretching your spine allows the pressure on your discs to drop to near zero.
Here are some of the best options to do spinal decompression at home:
 Inversion Therapy
The first option is to use a high-quality inversion table.
An inversion table can bring dramatic pain relief in as little as 10 seconds (for some people).
But it has long-term benefits too:
Regular inversion allows your back muscles to relax, your spine to elongate, and create space for your discs.
This space is vital to the discs' ability to naturally realign, rehydrate, and return to health – providing flexibility, shock absorption, and improved posture.
Home Traction Device – the Nubax Trio
The Nubax Trio is one of the best alternatives for inversion tables. – perfect for people who don't like the idea of hanging upside down.
The Nubax Trio can decompress your back just as powerfully as an inversion table but is portable and much smaller – making it ideal for small places.
The Nubax Trio is easier to get in and out of and it allows you to apply as little or as much traction as is needed.
And:
 It only takes 3-6 minutes of treatment a day of leaning over and relaxing. (And it's portable and lightweight – you can take it to your office if you have lower back pain from sitting too much).
If you prefer back decompression without kneeling – the Stamina InLine Traction Control System is your best choice.
2. Infrared Therapy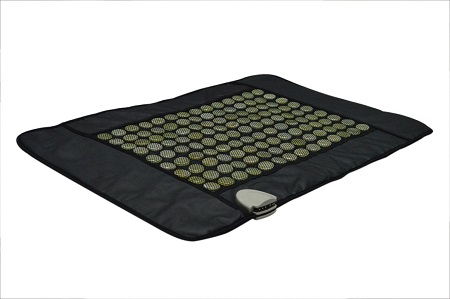 Infrared light therapy is one of the most effective yet little-known natural treatments for, well, just about anything.
Using an infrared heating pad for 30 minutes can relieve your back pain for no less than 6 hours (!!) – without medication – while enjoying many other health benefits of infrared therapy.
Unlike ordinary heating pads (I would advise you to stay away from them), which only heat the surface of your skin,  infrared heating pads are deep penetrating and completely safe.
There's no danger of burns, skin drying, or other health risks.
Far infrared rays, which are completely invisible to the naked eye, are capable of penetrating deep into the human body (literally right down to your bones) and improving circulation in the injured area.
This allows for almost immediate pain relief while speeding up healing of the area.
This way you are not treating the symptoms, you are taking an active step towards the complete healing of your bulging disc.
At my home, I have the Richway  Amethyst Biomat (and you couldn't pry it from my cold dead hands), but this is a smaller and less costly (yet very good) infrared heating pad.
After months of research, I still haven't found one testimony that infrared heating pads don't work.
Alternatively, you can try these excellent exercises for bugling discs, in the video below:
Does a Lumbar Bulging Disc Heal on Its Own?
If you ask almost any doctor, he'll probably tell you that there's no easy fix for a bulging disc and that most people feel a significant improvement after about 6 weeks.
However, this prognosis is assessed if you are using conventional treatments, which include pain medication, spinal injections, and maybe – physical therapy.
Most conventional treatments usually just mask the symptoms, instead of treating the root cause.
In my experience, natural treatments such as infrared therapy and spinal decompression do a better job of healing the bulging disc, instead of just hiding the pain.
Therefore, natural treatment may bring faster and more effective results and can prevent future problems, such as a herniated disc.
Note: as with any injury, pain, or ache – consult your doctor before beginning any treatment or therapy.
To your health and happiness,
Meital