When it comes to healing from a pinched nerve in the lower back, early diagnosis is critical to prevent further damage and complications.
But what's really confusing is that you'll be offered the exact same pinched nerve "treatment", whether you're diagnosed earlier or later.
Pills.
The average doctor will teach you absolutely nothing about fixing the root cause of your pinched nerve, how to heal it completely, and prevent it from coming back in a month or so.

This post may contain affiliate links, at no extra cost to you.
Here you'll find the best alternative, safe and natural treatments for a lumbar back pinched nerve, and how to fix what's been causing it in the first place.
What Does a Pinched Nerve Feel Like?
Most people describe pinched nerves as a feeling of needles poking the body. A pinched nerve is a nerve that receives too much pressure from surrounding tissues (bones, cartilage) and as a result, becomes "pinched" and unable to transmit electric signals properly.
When this nerve finally "gives up" and stops working – you feel tingling/pins and needles, burning and shooting pains (down your legs) along with feelings of numbness or muscle weakness.
What Causes a Compressed Nerve?
A few common causes for lumbar pinched nerves are:
1. Repetitive motion
2. Holding the body in one position for long periods (sitting too much at work? see how to relieve back pain from sitting)
3. Bulging/herniated discs.
👉 Read: Can a Bulging Disc Heal on Its Own?
4. Arthritis of the spine.
But when we look at these causes through the holistic approach, we see that all of these causes have the same root cause: muscle Imbalances.
The important thing to understand is that a pinched nerve, or Sciatica, is not a condition or a disease.
It's just a symptom of something else.
(👉 See the 4 best low back sciatica home treatments!)
Much like coughing is a symptom of pneumonia. If you want to stop the coughing, the smart way to go is to cure pneumonia, not just swallow coughing syrup.
We'll get to that later, and see how to reverse it – easily and at home.
How Long Does a Pinched Nerve Last?
Pinched nerve recovery time depends on both the amount of damage and the type of treatment you choose. Damage from a pinched nerve may be minor or severe. It may cause temporary or long-lasting problems. The earlier you get a diagnosis and treatment for nerve compression, the more quickly you'll find relief.
But by treatment, I mean alternative treatment. Pain medication is not treatment.
The 3 Best Ways to Heal a Pinched Nerve (at Home)
Treating a lumbar pinched nerve naturally can be done in 3 easy steps:
Inversion therapy
Low back pinched nerve exercises
Infrared light therapy
1. Inversion Table for a Pinched Nerve
At a cost equivalent to a couple of visits to a chiropractor, an inversion table can naturally relieve low back pinched nerve pain, potentially avoiding the need for office visits and pills.
Inverting 2-3 times a day, at an angle of 60 degrees or more, helps release the muscles that contribute to pinched nerves, and allows the spine to decompress and stretch the tight muscles that support the spine.
The spinal discs can rehydrate with fluid and increase the space between each vertebra, creating more room for the nerves that pass through openings in the spinal column.
👉 See the 4 best-value inversion tables for back pain – in 2023.
Inversion Table Alternatives
If you are one of the people who feel an inversion table is not for them, there are great alternatives for inverting, that can produce the same effect.
Our top recommendation for inversion table alternatives is the Stamina Inline Traction System, which can be just as effective, and doesn't require hanging upside down.
2. Infrared Light Therapy for Pinched Nerves
In my experience and through my research, the ultimate natural pain relief method is infrared light therapy.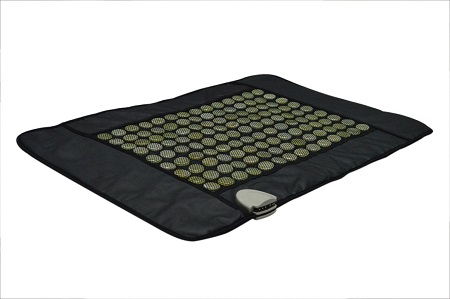 A simple infrared heating pad can relieve your pain naturally in a matter of 30 minutes, for about 6 hours – without medication.
Infrared rays (invisible red light rays, part of the sun's light spectrum) penetrate deep into your tissues, all the way to your bones, quickly boost circulation in the area and promote the arrival of pain-relieving and healing nutrients via your blood.
Infrared therapy can be a powerful and safe pain-relieving method and no side effects were found in research until today.
👉 I love this therapy so much that I have a dedicated blog about it – Infrared-Light-Therapy.com
3. Pinched Nerve Exercises & Stretches
One of the best ways to relieve and heal the lumbar pinched nerve is by doing a few daily stretches.
Not only do they relieve pain and help heal the damaged nerve, but they also help prevent the injury from recurring.
Here are the 3 best pinched nerve stretches:
Hamstring stretch – start in a sitting position, then lean forward and try to touch your toes. Hold for 1-3 seconds and slowly sit up straight. Repeat 3-5 times. This gently stretched your hamstrings.
Side stretch – stand with your hands on your hips, in a straight (but comfortable) position. Stretch your lower back gently by leaning to your right side, and then to your left side. Repeat 5 times on each side.
Core twist – start in a sitting position with your legs placed at shoulder width. Place your left hand on your right knee and stretch your body forward to stretch your back muscles. Hold for 5-7 seconds and repeat on the other side.
Here's a quick video demonstrating the best stretchers:
4. Fixing the Root Cause
Now that your pain is relieved, you can focus on treating the root cause of your pinched nerve.
The best way to do that is by rebuilding the support structure of your back.
A healthy back comes from within. You can't fix it with a pill. You can't get it from a gadget. And the surgeon can't install it on the operating table (too many back surgeries fail or produce no results at best).
 Consider physically rebuilding your "back support system".
In simpler terms – restore the muscle balance in your lower back.
You can learn more about muscle imbalances, how they caused your pinched nerve in the first place, and how to fix them HERE.
What have you tried so far to fix your pinched nerve? Share with us in the comments below.
To your health and happiness,
Meital